AZ 1-Day Activities

AZ 1-Day Activities may include just a few of the following, but certainly not all of them as there are too many to list here. (I will be providing more in depth information in the future, for your reference, though.) Horseback riding, bird watching, golfing, biking, ATV riding, hot-air ballooning, swimming, boat tours, jeep tours, hang gliding, hiking and, of course, the old "standby," walking, are just a handful of the One Day Activities that are readily available to everyone in the sunny state of Arizona.
Although it is pretty hard to escape the heat in Arizona, there are numerous 1-day activities that anyone can do without "overheating." Water parks in Arizona are quite abundant and are a great way to have fun in the sun and still keep cool.
I don't know about you, but if I have water close by, I tend to stay quite comfortable, even in the hottest part of the summer.  Enjoying your outside attractions in Arizona when the sun first shows its face is a strategy used by many including yours truly! People also enjoy catching a movie at one of the many theaters, indoor shopping malls or art galleries.
Discover AZ 1-Day Activities Here:
The Grand Canyon

I have lived in Arizona since 2001 and I cannot believe there are so many AZ 1-day activities in this  state. Shortly after moving here I traveled to the famous Grand Canyon for the first time. I was amazed how more amazing the Grand Canyon looks in person. I was truly taken back by the incredible views. I never thought that I would feel so small! I mean, it was so huge.  If you have the chance to experience the Grand Canyon, don't pass up the opportunity.  You will love the experience.   It's truly "breathtaking" beyond belief not to mention one of the more exciting Arizona attractions.
Below, you will see a picture of the wondrous Grand Canyon that we took on our 1-Day trip to this landmark. It was actually hazy that day but looking at the picture, I think the haze benefited the view.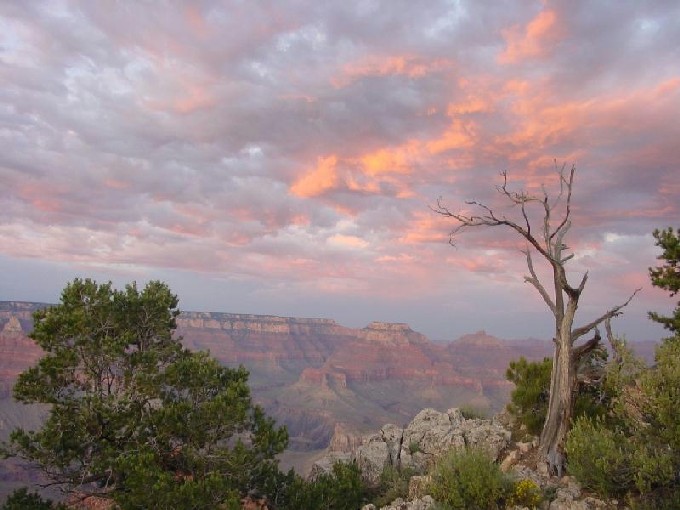 Many people think of only desert or dirt when they think of Arizona. But, there is so much more than that. You could easily spend a few months here in Arizona and not run out of 1-day activities; I guarantee it. Consider clicking on the links above with some of the more popular things to do in AZ.

Since moving here I have learned a lot about the state and have learned so much about the state, including how to pronounce certain words! My very first lesson was quite embarrassing. I pronounced saguaro as "suh-guarro," instead of "suh-warro."
Unfortunately, I mispronounced it with several people around! (All from Arizona, of course!) Everyone started laughing at me and corrected me with the correct pronunciation. I never pronounced saguaro incorrectly again after that. Everyone tried to make me feel better by reassuring me that most everyone coming to Arizona for the first time, mispronounces saguaro.
National Forests AZ 1-Day Activities
If you love nature, exploring the many national forests is also a great option for AZ 1-day activities.  There are six national forests right here in Arizona. I have listed them below if you are thinking of visiting one of these beautiful parks.
Apache-Sitgreaves - Located in East Central Arizona
This park is home to 2 million acres and consists of 450 miles of rivers & streams.
Coconino - Located in North Central Arizona
This park is home to 1.8 million acres with elevations reaching 12,643 feet. This is the highest peak in the state of Arizona. This park also includes Oak Creek Canyon in the worldwide famous Sedona area.
Coronado - Located in Southern Arizona
This park is home to 1.7 million acres with elevations ranging from 3,000 to 10,000 feet and also contains 8 wilderness areas.
Kaibab - Located in Northwestern Arizona
This park is home to 1.6 million acres with elevations ranging from 5,500 to 10,418 feet and it also contains 4 wilderness areas.
Prescott - Located in Central Arizona
This park is home to 1.25 million acres and contains 8 wilderness areas
Tonto - Located in Central Arizona
This park is home to three million acres with elevations ranging from 1,300 to nearly 8,000 feet.

Use the search box below to quickly find what you're looking for!
Return From 1-Day Activities To Home Page