Hiking in Arizona
Discover hiking in Arizona! Here are the top 20 trails, listed by www.Trails.com
Also, note  the Hiking Checklist below.

---
1. Havasu Canyon
Located in Seligman, AZ
Walking Distance: 20 miles
---
2. Camelback Mountain Summit Trail
Camelback Mountain is a very popular trail for Arizonans.
Total elevation equals 2,704 feet and is the highest point in the Phoenix Mountains.
Located in Phoenix, AZ
Walking Distance: 2.32 miles
---
3. Verde Hot Spring
Verde Hot Springs was once known as the place to be if you wanted to visit a hot-spring resort.
There you will still be able to find a few pools that are still available for bathing.
Located in Strawberry, AZ
Walking Distance: 2 miles
---
4. Four Peaks Mine
Here you'll find a scenic drive along with great trails.
Located in Phoenix, AZ
Off Highway Drives - 28 miles
---
5. Backway to Crown King
If you are up for the challenge, this is supposed to be an awesome locale to do some four-wheelin'.
Located in Phoenix, AZ
Off-Highway Drive miles: 34.4 miles
---
6. Bright Angel Trail
If you are already at the Grand Canyon, you are nearby this trail.
The Bright Angel Trail is considered one of the most popular hiking routes in the park.
Located in Grand Canyon Village, AZ
Walking Distance: 19.2 miles
---
7. Boynton Canyon
"Trails" notes this as being one of Sedona's most scenic canyons and a powerful vortex site. I have personally visited this site and I can tell you that this is a gorgeous area. If you have never been to the area, it is well worth your time. Pictures do not do it justice until you have seen it in person. Truly an amazing canyon to visit! 
Here you will find limitless red rock sandstone formations and scenery beyond belief. 
Located in Sedona, AZ
Walking Distance: 6 miles
---
8. Boynton Canyon Trail
The trail inside Boynton Canyon is just as beautiful as the canyon itself. Extremely popular to all visitors.
Located in Sedona, AZ
Walking Distance: 5 miles
---
9. Apache Trail
Breathtaking views of the Superstition Mountains and the Salt River Valley area. I know these mountains very well as I have been blessed to live close enough to view these beauties every day both inside and outside of my house.
Nearby you will also find both Canyon and Apache Lake. So many activities to do on and off the lake, you won't know where to begin!
Located in Apache Junction, AZ
Off-Highway Drives: 39 miles
---
10. Barks Canyon
The scenic Peralta Canyon area is also home to the Superstition Mountains and offers a magnificent view while hiking this area.
Located in Apache Junction, AZ
Walking Distance: 5.2 miles
---
11. South Kaibab Trail to Bright Angel Campground
Another hot spot for Grand Canyon visitors. Put this on your backpacking list.
Located in Grand Canyon, AZ
Hiking: 13.8 miles
---
12. South Mountain Trails (Desert Classic Trail)
South Mountain spreads throughout 16,500 acres and South Mountain park is the largest municipal park in the world. Lots of trails here. You will have several miles to explore. I first lived in this area when I moved here and it was always full of adventurists. There wasn't a day when I didn't see several people out walking or biking through the area. Great place to take your dogs, too.  It isn't advised to take your four-legged friends out in the extreme heat.  The solution?  Get up early when the sun rises.  Both you and your pooch will be glad you did.

If you'd like to experience some rugged mountain biking, this is a great place to ride! A little too rugged for my taste, but nevertheless, if you salivate for a true mountain biking challenge, this would be an awesome site.
The hiking is great and not too rugged. I have hiked this site on several occasions. You will have a great view of the city at the top of this mountain.
Located in Phoenix, AZ
Mountain Biking: 18.6 miles
---
13. Arizona (Ringbolt) Hot Springs
Found along the Colorado River below Hoover Dam, here you will find Arizona Hot Springs with a waterfall. There is an excellent pool for bathing. You can reach it by either hiking the 3.25-mile hike or by boat.
Located in Boulder City, AZ
Hot Springs: 6.5 miles
---
14. Payson Area Campgrounds
Situated along the Mogollon Rim, you will be pleased with the gorgeous scenery throughout this area. I have driven through this area and fell in love with this area, like others. You can find trails throughout the campgrounds area.
Located in Payson, AZ Trails throughout the Payson area
---
15. Dynamite Loop
Granite boulders are found throughout this area known as Sonoran. You will find beautiful views of the famous Scottsdale area here with plenty of short and long trails that you can hike and bike on. Something for everyone's style.
Located in Scottsdale, AZ
Mountain Biking: 12.3 miles
---
16. Bell Rock
Bell Rock is known to many as a very spiritual vortex center. If you are looking for a stress reliever, many truly believe that anyone who climbs on Bell Rock, will feel a calming effect that this rock is able to energize them with.
Located in Sedona, AZ
Walking Distance: 2 miles
---
17. Charles M. Christiansen Memorial Trail 100
This memorial trail is located in the North Mountain Preserve. Quite the popular trail selection for day hikers, bikers, and even equestrians. Hard to believe this is in the central part of the city called Phoenix, Arizona!
Located in Phoenix, AZ
Mountain Biking: 21.2 miles
---
18. Flagstaff Area Campgrounds
Many people who reside in the lower elevations of Arizona like to travel to Flagstaff, not only because of the cooler weather, but also because of the variety of activities it offers.
It is the largest city in the northern part of Arizona and offers visitors such things as hiking, camping, museums, and great views of northern Arizona, not to mention the wildlife.
Located in Flagstaff, AZ
Multiple trails located throughout the many campgrounds.
---
19. Oak Creek Canyon Trails
This area is known worldwide for its incredible scenery and relaxation that surrounds the area. In the summer, the Oak Creek Canyon Trails are flooded throughout the hot summer months. The area itself is about 15-20 degrees cooler than the Phoenix metropolitan area. Many Arizonans flock to this area to cool off and to enjoy the area which is considered by many, to be the most beautiful place they have ever experienced.
So much to do....hiking, (the obvious) biking, jeep tours, helicopter and plane rides....you name it; it's here!
I took a jeep tour through here and was in awe with the beauty that I experienced.
Located in Oak Creek, AZ
---
20. Superstition Mountains
I have to admit these mountains have stole my heart....besides the beauty of the Sedona area. The Superstition Mountains are sometimes too hard to describe in words. They never look the same and they offer many hikers the best of both worlds. All the exercise one could want and a chance to stare at these beauties at the same time.

You can obviously go hiking in these mountains.  I have never attempted to hike to the top of these mountains but I do know of a few people who have accomplished the hike to the top.  I am told it is a good four-hour hike to the top.  There are also areas where the area is not as terrain, if mobility is a challenge for you, or if you have little ones.
Jeep tours, horse back riding, hot-air balloon riding, and treasure hunting are just a few of the activities that you can partake in throughout the Superstition Mountains.
Located in Apache Junction, Gold Canyon and Mesa, AZ
Walking Distance: 19.2 miles
(There are also many shorter trails throughout the Superstition Mountains area.)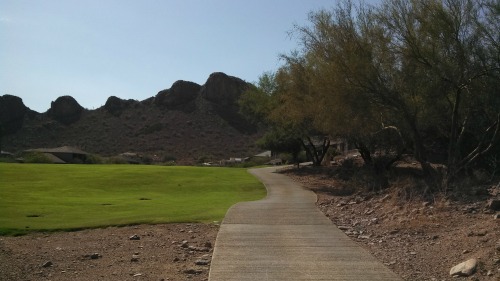 ---
Hiking Checklist
This Checklist is What the American Red Cross Recommends You Take Along With You Whenever You Go Out For a Hike.
Certainly, you will not take the entire list of items if you are only going to be gone for a couple of hours. This is simply a guide for you to go through and personally assess your own needs.
Candle and matches
Cell phone
Clothing (always bring something warm, extra socks and rain gear)
Compass
First aid kit
Food (bring extra)
Flashlight
Foil (to use as a cup or signaling device)
Hat
Insect repellent
Map
Nylon filament
Pocket knife
Pocket mirror (to use as a signaling device)
Prescription glasses (an extra pair)
Prescription medications for ongoing medical conditions
Radio with batteries
Space blanket or a piece of plastic (to use for warmth or shelter)
Sunglasses
Sunscreen
Trash bag (makes an adequate poncho)
Water
Waterproof matches or matches in a waterproof tin
Water purification tablets
Whistle (to scare off animals or to use as a signaling device)
Hiking Tips
Below, you will find tips that you can use when you access hiking trails in Arizona.  These tips will help you to have a safe and joyous experience. It is in everyone's best interest to plan ahead carefully and follow commonsense safety precautions.
*Take Along PLENTY Of Water
While we all know that water is the single most important item to take with you when hiking in Arizona, it is also the single most item that any troubled hikers seem to be without.
Don't underestimate just how much water you will need while hiking in Arizona. Never rely on finding water while on the trail. Note the fact that most streams and springs only flow during certain times of the year. Don't count on those water sources having adequate drinking water. Besides, drinking water from an unknown source could be dangerous to your health. Hiking in Arizona is undoubtedly a lot of fun, but it can also be very dangerous. You just need to prepare yourself while hiking in Arizona.
It happens too often when you hear on the local news that yet another person had to be  rescued on a mountain or in the wilderness because they succumbed to the weather elements, got lost or lacked enough water to be able to finish their hike. If you have ever lived in Arizona, you likely have heard the same stories I have. Always, ALWAYS take more water than you think you will need on any AZ hiking trip.
The amount of water needed while hiking in Arizona depends on several factors including:
the duration and difficulty of the hike
the temperature it is expected to reach during the time of your hike and the amount of shade that will be available
the water needs of each individual
Amount of Water Needed When Hiking in Arizona:
ALWAYS carry a MINIMUM of 2 quarts per person per day. In the summer, many people, especially health professionals, advise individuals to carry one gallon per person per day.
If you were to ask the Park Service, they would likely recommend you should actually carry between 3 and 4 quarts during any time of the year while hiking in Arizona.
According to the Park Service, your body can easily use more than one quart per hour, but cannot absorb more than 1 quart.
Don't Forget Food

Make sure you are eating enough food for the energy needed for the hike. Snacks like whole grain cereal and energy bars, nuts, dried fruit are all good sources of supplementation. The great thing about these light snacks is that they are light in weight and you can also consume them while you are still walking on your designated trail.
To Prevent Cramps During Your Hike
It is also recommended to stretch prior to beginning. If you have ever played sports, you know just how important stretching is! It's the same thing with hiking.
Stretching out several minutes before heading out will help prevent cramping. And, remember to stretch all of your muscles, not just your leg muscles.
Staying hydrated will definitely help you avoid cramps. Try to pace yourself by drinking one quart of clear water every hour that you are out.
Don't forget to take breaks. If possible, walk for a good hour and then take a break for at least several minutes before starting up again.
Other Important Essential Items
*Map
Even though you may be very familiar with the area where you will be, but it is always a good idea to have a map to help you identify your location. This is essential in the event that you should become detached from your party. A map has been a lifesaver to many in the past and it could also be yours, should you need it.
*Compass
Some may scoff at this suggestion, but I know of people who were separated from their group and were either found dead later in the wilderness or had to be rescued by medics because they had lost their way because they did not know their sense of direction or got lost once they were so far deep into the wilderness.
Like my mom always said, and still does, It's better to safe than sorry! Besides, a compass is very lightweight and you can easily attach them to any garment you are wearing or you can just place it inside your backpack.
*Pocket Knife
One never knows when they will need a knife. A knife serves many purposes and is always a good idea to have whenever you hike in AZ.
Remember you should keep the blade length on your knife equaling approximately three inches. It is also better to have a knife with a locking blade.
A pocket knife should not be carried in your backpack, but rather on your person for obvious safety reasons.
*Backpack
You don't need anything fancy or expensive whatsoever. I think I picked one up at the store for several bucks and it's a pretty nice one... it also has many zippered pockets for storage which is great when you are out on the trail.
I always take mine when I ever head out on the trails and I have never regretted that I took it. I place all of my water, snacks, a plastic bag, and other important essentials, which certainly beats having to carry these items!
*Signal mirror
If you are not quite sure how long you will be out on the trails, or if you just would like to have one for piece of mind, taking a flashlight may also be a good idea.
*Consider Using A Walking Stick
These work great because they can help relieve some of the pressure off of your knees.
These walking sticks are especially great for steep trails, as they are able to help support your knees. 
Here is another resource with safety tips to ensure you have a safe trip, provided by the National Park Service. 

Hiking in Arizona Benefits
Hiking in Arizona has always been the old standby when it comes to a good form of  exercise. It may go unnoticed by some as a true and great form of exercise.
The fact is, walking is and always will be an excellent way to help you lose a few pounds, and hiking in Arizona is also a great, if not the perfect way, to improve ones health.
According to AARP, there are many positive health benefits that can be associated with walking.
AARP and many others believe that walking aids in the prevention of depression and colon cancer. It is also believed to aid with issues of stress, constipation, arthritis, osteoporosis, improve your overall mood and sense of well-being. To some, the biggest benefit of walking may just be that walking may improve a mans impotence!
What do these benefits really mean to you? Nothing short of the possibility of a longer lifespan! You have to love that!
Here Are Some of the Other Fine Benefits That Walking Will Give Back to You!
Managing your weight
Controlling your blood pressure
Boosting "good" cholesterol
Lowering your risk of stroke
Avoiding your need for gallstone surgery
Reducing your risk of breast cancer and type 2 diabetes
Protecting against hip fracture
There are many hiking trails to choose from and you will may be amazed at just how many trails you will find. Hiking in Arizona has been a favorite past time for many outdoor enthusiasts and probably always will be, as long as those areas are not developed.
Hiking in Arizona may not be your favorite activity, but if you have never been hiking in Arizona, you might just be surprised with all of the beautiful scenery and wildlife that you will discover once you experience hiking in Arizona.
Hiking in Arizona can be a very exciting and fun way to explore the desert Southwest. Hiking in Arizona allows all to discover breathtaking desert landscapes, wildlife, not to mention peace and tranquility. Once you are hooked, there is a very good chance you will want to go hiking in Arizona very soon.
Don't worry about your skill level either. You can go hiking in Arizona where you will find easy hikes which are perfect for the kids or those who have mobility challenges. If it's steep, rugged mountainous canyons you are looking for, well, hiking in Arizona has that too!
Use the search box below to quickly find what you're looking for!
Return From Hiking in Arizona To 1-Day Activities
Return From Hiking in Arizona To Home Page