Grand Canyon
It's no wonder why the Grand Canyon is one of the world's seven (7) wonders. If you have seen it, you know just why this creation is known to so many people.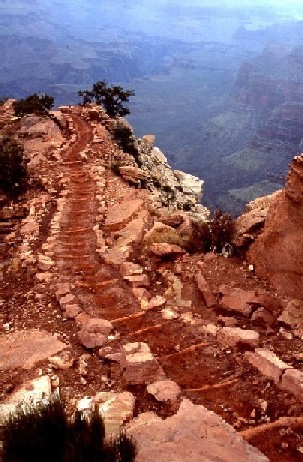 Are you planning a visit for your 1-Day-Activity? It is possible to get several hours of sightseeing, depending on what time you get there.
If you leave early and prepare yourself for a long and physically exerting day, it can be done. If you plan to leave from the Phoenix metropolitan area, make sure you leave plenty early.
Also, if you have another licensed driver to assist with the driving, it would definitely be the better scenario.
(Picture - Grand Canyon Steps by Lauren Rosenbaum)
If you have an extra day, you would certainly not be as rushed and likely enjoy your excursion all the more.
I will provide you with information that will hopefully be useful to you in your plans to visit this gigantic hole! Enjoy!
History of One of the Seven (7) Natural Wonders of the World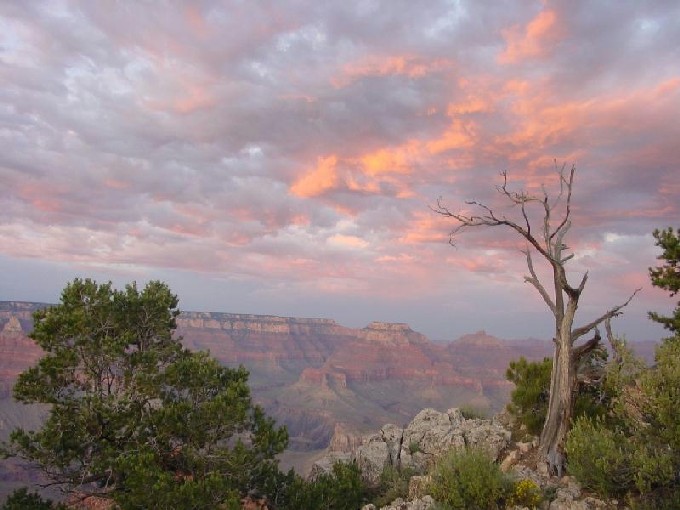 The known history of the Grand Canyon area goes back 10,500 years when there was the first evidence that humans existed in the area.
Native Americans have been living there now the G. C. National Park for at least the last 4,000 of those years. The Anasazis, and the Puebleoans, and the Cohoninas, all became settlers within the walls of the Canyon.
In the latter part of the 13th century, drought forced two Native American cultures who once lived there, to move out of the area. Other cultures later arrived to the area, such as the Paiutes, Cerbat, and the Navajo tribes, who were later forced onto reservations by the United States Government.
It was the Spanish explorer, Garcia Lopez de Cardenas who was actually a part of the Francisco Vasquez de Coronado's expedition team, who was the first European to see this monument. Lopez de Cardenas and his team were actually searching for gold when he came upon what is now considered the Grand Canyon.
The Grand Canyon was formed by the Colorado River flowing west through it and averages 300 feet (91 meters) wide and an average of 100 feet deep (30 meters). It flows an average of 4 miles per hour (6.4 km) and sees about 5 million visitors every year.
This natural wonder resides in the Grand Canyon National Park, which is one of the very first national parks that came to be here in the United States. Former President Theodore Roosevelt, loved to visit here to both hunt and enjoy the beautiful scenery. It was also Roosevelt who advocated that should be named a national park. To obtain a permit go to www.nps.gov.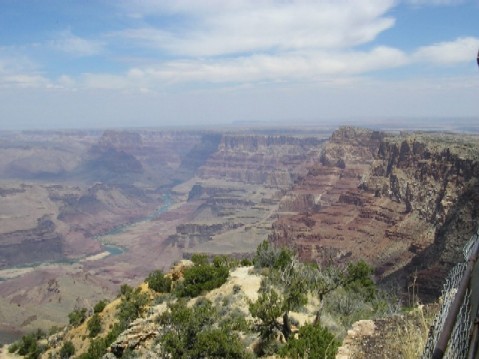 And last but not the least most popular way to experience the Grand Canyon, (perhaps the most exciting to many...) is to... Go Rafting Or Take A Boat Tour Through it! 

Have You Ever Rafted Down the Canyon?
I am happy to say that I have experienced the Canyon, but I have yet to go rafting down this wonderful place, but definitely plan on doing so! What a rush that must be.

I am told that traveling through the Canyon on foot or by mule is very difficult because there are not many trails and water is seldom available, though. SO, keep that in mind when planning your trip! I have heard from others that this is a fun experience, except for the fact that they ended up with a sore rear-end and tired legs.
Rafting or boating is a good option as you will get perhaps the most incredible view!
If you choose to go rafting, though, keep in mind that the water can get a little rough at times, but you will certainly be in good hands with your tour guide and required life jacket.
If you are real timid about water, you may wish to consider the fact that the Colorado River through the Grand Canyon is said to be one of the wildest stretches of white water here in the United States. Personally, I cannot wait to try it...how about you?
With any outdoor activity, there are always going to be risks involved and you should certainly take this into consideration when planning your visit. I just want you to be happy with your decision and to have fun whichever route you decide to take.
I did hear of a rafter who, several years ago, fell over the raft and the tour guide turned off the motor so the person would not be cut by the propeller.
The raft ended up getting stuck between some rocks. This story had a happy ending, though. All the passengers, including the person who fell overboard, were all rescued by a helicopter. I guess that is one good way to also say you had a ride in a helicopter inside this Wonder.....well, maybe not in that manner, though, on second thought.
If you are looking to float in a raft down the entire stretch, it will take you a good 17 days, from Lees Ferry to Lake Mead, which totals about 275 miles. What a lot of people choose to do, instead, is to walk down from the South Rim to the Phantom Ranch area, where they they go rafting for 7 days through the biggest rapids of the canyon.
For More Information on Exciting Rafting Tours CLICK HERE!

Entrance Fees To The National Park
The cost to enter the National Park is 25 dollars for each individual vehicle. This includes everyone inside the car, which means you won't have to pay a ton of money for a packed carload of people! Another benefit is that your entrance fee to the park is actually good for a whole seven days, in case you plan on coming back.
National Parks Golden Eagle Passes
If you have these passes, they will save you some money.
If you hold an Annual (general) pass, Grand Canyon Park Pass, Golden Age (for those who are 62 and older), or a Golden Access Pass, (blind and disabled), there are reduced fees, sometimes there is no charge, which just depends on the type of pass you hold. Just make sure that you present the pass at the time of your arrival.
Don't Like Crowds? 
Let' face it....mid-May through mid-October, you are going to encounter a LOT of other visitors. If this does not excite you, you do have options to avoid seeing so many people.
What you may wish to do is to avoid the this National Park completely and travel to the West Rim of the Canyon. This is known as the Canyon's tribal land of the Havasupai and the Hualapai.
During the busy season I just mentioned, try to avoid getting there around lunch time and make every attempt to get to the South Rim early! You may also wish to travel a different route, as there are other ways to get there.
Another idea is to stay in Sedona, Arizona the first night, where the views of the very famous red-rock sculptures will captivate you, and to have one of those small mini-vans pick you up at the hotel the next morning and escort you to the Canyon. That is what I did, and I am glad that I opted for that route. Although I don't mind driving, having someone else drive really allowed me to enjoy the area as I didn't have to pay attention to the road. (It also allowed me to catch a cat nap, too!)
Most people get to the Canyon as a means through Flagstaff.
What I learned is that if you access United States Highway 89 (North) from Flagstaff until you see the junction, noted as AZ 64, you will fare better with the traffic.
Interested in Seeing the North Rim, Too?
While it is a mere 10 miles away from the South Rim, to get there by car is about a five hour drive. The total mileage is about 215 miles, and from what I was told by someone, the views are "to die for!" You can also hike once you arrive there, too. If you have the time, you would not regret it is what someone told me, anyway.
Just keep in mind that the elevations of the Canyon are around 7,00 feet, they do get snow! Point being, the road to the North Rim is closed by mid-October because of the HEAVY SNOW that it receives. Whoever said that Arizona does not have a change of seasons?
Directions to The North Rim
Take U.S. 89 North, turning left onto U.S. 89 A.
You will pass a beautiful area known as the Vermillion Cliffs.)
Once you arrive at Jacob Lake, access AZ 67 which will point you exactly to the Grand Canyon North Rim.
The Grand Canyon Railway
This very famous train is also a great way to avoid the hassle of dealing with other drivers on the road.
I have been on this train and it is certainly worth it. You just sit back and relax and enjoy the incredible views of the area, not to mention some of the wildlife that you will likely see.
You can get on board every morning in Williams, Arizona, as it promptly departs from the depot 9:30 AM. It is a most beautiful 65 mile journey in less than three hours. You could complete the round trip in one day, but if you have the time, you have the option of staying overnight at the South Rim and return to Williams the following afternoon.
Driving Directions From The Phoenix Metropolitan Area
The approximate mileage from Phoenix is 233 Miles, which will take around 4 hours and 20 minutes. Plan on about 4.5 hours to reach the National Park, although you may be able to do it in four, depending on the traffic and how many bathroom, or eating breaks you take. There are patrol vehicles, so speeders beware......
Wherever you are in the Phoenix, Arizona area, you need to find access to (Interstate) I-17 north and take that to (Interstate) I-40.
Take I-40 west to Highway 64. Take Highway 64 north directly to the South Rim.
Just enjoy the ride and the view. You will really enjoy the drive, as I did. The scenery is spectacular! You will see many types of cacti and beautiful Sonoran desert to pass the time by.
Once You Arrive To The Grand Canyon National Park,
You will see that there are two entrances: a Southern Entrance, which is just north of Tusayan, and an Eastern Entrance, a few miles East of Desert View.
Here is a tip: If you enter at the Southern Entrance you will be closer to most of the restaurants and hotels in the area. You will also be real close Babbett's largest General Store.
Do You Have Physical Challenges?
No worries! What a shame it would be to not be able to experience the Canyon just because you or someone you know is physically challenged.
The Grand Canyon river outfitters organization is well prepared to accommodate you or anyone in your traveling party who has limited abilities.
If you or someone you know has a disability and is interested in a trip to the Canyon, the most important thing to know is that it is now possible for them to also enjoy the experience, as it should be.
In 1991, the Americans with Disabilities Act was enacted into law and The Grand Canyon river outfitters only did what was right. They implemented new innovative ways so as to provide those individuals with safe access to the Canyon.
They are equipped to handle your requests with modern boating and safety equipment along with many years of experience so that they are able to assist almost every individual with mobility issues.
If you have questions about the this National Park Access Program, please e-mail them at Access@GCROA.org.
The Big Grand Canyon, Arizona Skywalk!
That's right....the first chance that anyone had to experience the Grand Canyon Skywalk took place on March 28, 2007, at 10:00 AM. And, I heard that there were many on hand to try this new experience. The local newscasts all mentioned this here in Arizona.
The Grand Canyon Skywalk is the first ever cantilever-shaped glass walkway to suspend more than 4,000 feet above the canyon's floor. It extends 70 feet from the canyon's rim and is located at Grand Canyon West's Eagle Point.
Interested? You can check the Skywalk out as it is now open from dawn to dusk, seven days a week.
Purchase of The Spirit Package, $49.95, includes the Hualapai visitation permit, access to all points of interest at Grand Canyon West including Guano Point, Hualapai Ranch and Eagle Point, lunch at an all-you-can-eat buffet and photo opportunities with Hualapai Members. It is an additional $25 to walk on The Skywalk.
To maximize visitors' experience, a limit of 120 people will be permitted on the bridge at any one time. In order to avoid scratches on the glass, shoe covers will be issued and all personal items must be left in designated lockers.
The Skywalk visitor's center, includes a museum, theater, VIP lounge and gift shop as well as private indoor and outdoor facilities for meetings, special events and weddings.
They also have several restaurants and bars on tap that are also available, including The Skywalk Café, a high-end restaurant with outdoor patio and rooftop dining on the edge of the canyon.
The second floor of the visitor's center  provides access to The Skywalk glass walkway.
They built the Skywalk after I was there, so I was unable to see it. What a great excuse to have to go back!
Several airline carriers fly into the Grand Canyon Airport from Las Vegas, including Air Vegas, Scenic Airlines, and Vision Air, if you are interested in this service.
North Las Vegas Airport in Las Vegas is the primary air hub for flights to Grand Canyon Airport. You can also make connections into the Grand Canyon from Sky Harbor International Airport in Phoenix.
Xanterra Transportation Company offers travelers a 24-hour taxi service at Grand Canyon Airport, Grand Canyon Village, and the nearby village of Tusayan. Taxis also make trips to other destinations around the Grand Canyon National Park, if needed.
Air Vegas (PHONE: 800/940-2550, www.airvegas.com).
Grand Canyon National Parks Airport (PHONE: 928/638-2446).
North Las Vegas Airport (PHONE: 702/261-3806).
Phoenix Sky Harbor International Airport (PHX) (PHONE: 602/273-3300).
Scenic Airlines (PHONE: 800/634-6801, www.scenic.com).
Vision Air (PHONE: 702/261-3850, www.visionholidays.com).
Xanterra Transportation Company (PHONE: 928/638-2822).
Use the search box below to quickly find what you're looking for!
Return From Grand Canyon To 1-Day Activities
Return From Grand Canyon To Home Page