Lost Dutchman Mine
The Lost Dutchman Mine legend lives on in the heart of the Superstition Mountains. Many people still believe that there is a "secret buried gold mine" somewhere in these mountains.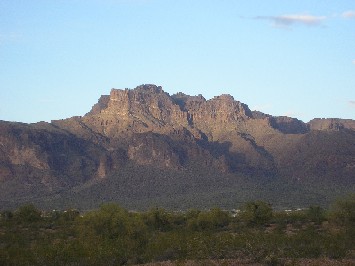 Not only do many people still hang on to this proposed legend to be real, many have traveled from far away to get closer, and to hopefully be the one to discover it. sadly though, some have even lost their lives trying to find this lost mine.
Do you believe that the mine truly exists? If you believe in the Lost Dutchman Mine story, you are certainly not alone.
Here Is The Story That Has Not Only Lived On But Caught Worldwide Attention.
Jacob Waltz

The story is told by the Superstition Mountain Historical Museum in Apache Junction, Arizona. The museum tells the Lost Dutchman story about a German prospector named, Jacob Waltz, who acquired this gold mine.
I have heard that Waltz's exact birth date is unknown, but the census records indicate that he is listed on later in his life, indicate that he was born in the year 1810. Jacob Waltz, was born in Germany around the year 1810 and later came to America around 1839.
Walt'z first stop was New York City. He later moved to to North Carolina and Georgia where he had hoped to find gold. By the time he made his arrival in Meadow Creek, North Carolina, the area had already been prospered from. Once he realized this, it is believed that Waltz moved to Georgia. It was here that he once again hoped to find work or better yet, find gold.
Not satisfied with his results in Georgia, Waltz picked up and headed to the state of Mississippi, where the Superstition Mountain Historical Museum reports that Jacob Waltz became a citizen in order to retain any future mining claim.
Waltz soon became a citizen of the United States on November 12,1848 in Natchez, Mississippi. (Waltz would later become a naturalized citizen of the U.S. on July 19, 1861, Los Angeles County.)
Striking It Rich

Jacob Waltz became Waltz did not stay in Mississippi for too long though, as he later found himself in California two years later in 1850, where his dream of "striking it rich" in California carried on.
Following the year 1861, the Lost Dutchman Mine story finds Jacob Waltz working along the San Gabriel River near Follower's Camp, among other what was considered "gold camps." During this stretch he met a man named another miner, named Ruben Blakney, whom he worked for.
Waltz also met another man named Elisha M. Reavis, a former teacher in both Illinois and California. After teaching for a short period of time, Reavis spent the better part of the 1850's on looking for gold.
He was said to be an excellent marksman and one not to be reckoned with, as a few of the Apache Indians discovered and lost their lives to his accurate rifle. Said to be a loner, Reavis never shaved or even took a bath. Nevertheless, he played an important role in the legend of the Lost Dutchman Mine story in the Superstition Mountains. It was Elisha Reavis who had a gold claim some 1500 feet from Blakney's claim on the San Gabriel River.
A Pioneer

Waltz departed California in 1863, as he made his way to the Bradshaw Mountains with who was known as the Peeples-Weaver Party in search for, you guessed it, more gold. It is now September 21, 1863 in Prescott, Arizona where he files a mining claim here. Waltz was one of the earliest pioneer prospectors in the Bradshaw Mountain area and where you will find the Dutchman's name on the Gross Claim. You will also find Jacob Waltz's name on on a special territory census that was taken in 1864.
Jacob Waltz filed a mining claim in Prescott, which is known as the "General Grant Lode" On December 27, 1865, in the Walnut Grove Mining District. Jacob Waltz appeared to be the only name on the claim. Jacob Waltz, is the only name that appears on the claim.
The Lost Dutchman Mine founder Jacob Waltz moved to Arizona in 1868 where he lived in the Salt River Valley area. This is the area where a homestead claim was filed on his behalf on 160 acres of land north of the Salt River. It is here where Waltz began his exploratory trips into the Superstition Mountains and others that surrounded the Salt River Valley.
Jacob Waltz died October 25, 1891, in the home of Julia Thomas, who cared for him the last days of his life. Following Walt'z death, this very same woman, Julia Thomas, who was the former owner of a local ice cream parlor in Phoenix, reportedly quit her business in order to continue where Jacob Waltz left off. Some believe this is where the myth began.
According to Clay Worst of the Superstition Mountain Historical Society, the Lost Dutchman Mine is something very real to him. I found a short video on YouTube.com where Worst discussed this legend.
He said that there were a couple of pieces of gold that were found underneath his bed. One of the larger pieces was gold was in the form of a gold matchbox, which can be viewed at the historical museum.
It still remains a mystery as to where he found this gold, but Clay Worst believes in the Lost Dutchman Mine. Worst goes on to say in the short video that there were two stories that Jacob Waltz told.
The first story Waltz told described a former partner, known as Weiser, as "trigger happy." This first story involved Waltz and Weiser "stumbling across two Mexicans." Worst tells the story of how a gun battle followed their discovery of the two Mexicans and how both were shot dead. The second story told by Worst, describes Waltz on his death bed talking about how he was alone when the mine was discovered. According to Waltz in this second story, Waltz found three Mexicans in possession of the mine and he killed them. Supposedly he also killed four more men including his very own nephew, in an effort to keep the hidden mine a secret. Two of the four men that he killed were said to be from the U.S. Calvary from Fort McDowell.
Worst goes on to say that just before Waltz died, there were some men that were present who tried to "reconstruct the story of how he found the mine." Unfortunately though, Waltz died before that could happen.
After the Waltz's death, Dick Holmes hunted the mine from 1891-1908, according to Clay Worst. Holmes later sent his only son, Brownie Holmes, to search for the Lost Dutchman Mine for the next 40 years. Worst states that Holmes was unable to find the Lost Dutchman mine because he was not given what he calls "enough accurate information."
Worst is one of the many treasure hunters who still believe in the Lost Dutchman Mine and says that he will be out looking for it once he has his hip replacement.
While there are many mysteries that still remain regarding the Lost Dutchman Mine legend, it is not a mystery that Jacob Waltz existed.
As mentioned, there are many court documents that support this and it is also a fact that the Lost Dutchman Mine founder Jacob Waltz lived right here in Arizona from 1863-1891. The question still remains, though and many still wonder. Was Jacob Waltz a man who was famous for discovering a rich gold mine in the Superstition Mountains?
For some, it is not a mystery and for some that choose to believe that there is a Lost Dutchman Mine, there was and still is gold within the Superstition Mountains. Since 1891, more than 137 people have claimed to have found it.
What cannot be disputed is the fact that the first person who ever claimed to find the Lost Dutchman Mine back in 1895, occurred long before any of these Lost Dutchman Mine stories got started. There are skeptics just as there are believers. Some believe that 242 square miles of the vast rugged terrain that can be found here in the Superstition Mountains, makes it far too difficult to realistically search or prospect the Lost Dutchman Mine area.
The Superstition Mountain Historical Society and Museum reported that geologists believe that "there is little geological evidence to suggest a rich gold deposit could exist in these volcanic mountains." They go on to say that Jacob Waltz, who is the alleged owner of the Dutchman's Lost Mine, "claimed his mine was located where no other miner or prospector would search for gold."
But before you jump on the "bandwagon" with the other non-believers, The United States Geological Survey organization says that there just might be some truth to what Jacob Waltz said all along, in that the area was "highly mineralized," and revealed that in fact there were "deep seated mineral deposits."
With that being said, for well over 30 plus years, there have been some investors said to have lost millions to those who led them to believe that it is full of gold and just waiting to be discovered. Certainly there needs to be some caution when and if you are considering literally buying into someone else's notion.
Fiction or non-fiction, the truth holds true no matter who you ask whether or not the legend lives on when it comes to the Lost Dutchman Mine. There are an estimated 80 fake maps that exist, so before you take one to heart, just remember that Clay Worst of the Superstition Mountain Historical Museum firmly believes that Jacob Waltz never even had a map!
The stories will continue to keep the Lost Dutchman legend alive and prospering. Every year there are more who travel to Arizona to get their own glimpse and personal experience of the Lost Dutchman Mine legend.
And a legend it is. The museum reports that there has never been anything else that has caused so many different story variations and nothing else has caused more people to lose their lives!
The Lost Dutchman Mine Lives On. Do You Believe?
For more information, you can visit the Superstition Mountains Historical Society and Museum. The museum is located 3.5 miles northeast of Apache Junction.
Their address is 4087 North Apache Trail, Apache Junction.
The museum is open daily from 9 AM to 4 PM. They are closed on Thanksgiving and Christmas. Their phone number is (480) 983-4888.

If you would like more information on the Superstition Mountain Museum in Apache Junction, click on the Superstition Mountain Museum.
Use the search box below to quickly find what you're looking for!
Return From Lost Dutchman Mine To Home Page