Arizona Horseback Riding
Arizona Horseback Riding doesn't get any better on the desert Sonoran floor.The sights, sounds and the smell of the desert along with where the mountains seem to touch the sky is always another one of Arizona's special 1-Day activities.
Regardless of your riding abilities, riding can be enjoyed by most everyone. There are horse tours that are catered to anyone's skill level.  There are az horseback riding tours customized for all skill levels.  So if you have been putting off the experience of trail riding, don't just dream about it.... consider booking a trail ride today!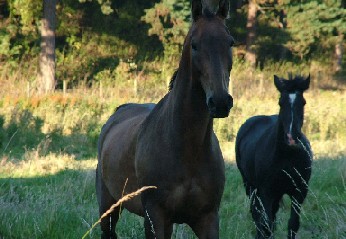 You will find most horse trail adventure companies are owned and operated by horse professionals who understand that everyone is not at the same skill level of horse riding and they want their customers to feel safe and secure while accommodating those skill variations.
You will appreciate it that most Arizona horseback riding tour companies will match you with a horse that is close in nature to your riding abilities so you are able to control your horse. Many of these companies will be glad to provide you with an AZ horseback lesson or two! 

Make Your Horseback Riding Memorable!

If you are considered a beginner, there are AZ horse riding adventures geared toward the the novice rider. These horse tours are generally 1 to 1.5 hours in length where you, the rider, is able to enjoy a slow and scenic trail ride through the desert.
If you consider yourself an intermediate rider, there are Arizona horseback riding tours that mix up the tour with trotting as well as walking.
Obviously if you are an experienced rider you are going to have many more options with your AZ horseback riding tours, but just the same, these trail riding companies will carve out a trail based on your skill level.
Tours for the more advanced rider will generally include mountain rides which are certainly more challenging. These rides are also faster paced.
You will also find that these trail rides come in a variety of tour attractions.
Many companies offer riders half-day, all-day tours, overnight trails rides, along with a short but very sweet one hour horseback tours.
The longer tours will many times provide you with a lunch of some sort, too.
Because of the extreme heat in the desert southwest, these Arizona horseback riding tour companies will usually have limited hours for your safety as well as the horses, so plan ahead accordingly.
The Summer hours are generally between May through September, when Arizona experiences its hottest months of the year. With that in mind, many of these Summer Arizona horse tours will begin bright and early around 5:30 a.m. or 6:00 a.m. in an effort to beat the Summer heat.  
Evening Summer tours will usually start around 6-7 p.m. You will likely find a variation from one company to the next, so call ahead for their operating hours as well as dates available during the hotter months. 
As mentioned, it is best to contact the company you are interested in regarding their hours of operation.  You will likely find that most of them are open all year-round, with a limited schedule around the holidays and again, the Summer months. Here are some frequently asked questions other trail riders have inquired about:
How Old Does My Child Have To Be To Ride?
While many companies have a minimum age requirement of six. I have seen companies, however, who allow younger children, as young as two, provided they ride with an adult over the age of 21 years.
What Is Your Refund Policy?
Not all the Arizona horseback riding trails offer a refund, so make sure you call ahead and ask what their refund policy states for their AZ horse tour.
Are Reservations Required?
Most horse tour companies require reservations, while some do not. It is always best to inquire well in advance in case they do require reservations. The Winter months book quickly, especially with the arrival of the (winter visitors) "snowbirds," flocking to the desert so it is wise to call well ahead of time so you don't get shut out.
What if I Am Physically Disabled?
I have noticed some of the companies are handicapped accessible, allowing those individuals the chance to experience the fun, too, including handicap accessible riding equipment. Arizona horseback riding has been noted by health professionals as being very therapeutic, so riding is an excellent way to provide that benefit.
Horseback Riding Tips For Safe And Joyous Arizona Trail Rides
First and foremost, wear sunscreen, and take a bottle with you to reapply if you will be out for an extended period of time. Arizona is known for its constant sunshine so play it safe and protect your skin.
Wear long pants! While you may think that it's absurd wearing pants in Arizona, especially in the middle of the desert, it's advised by many horse enthusiasts and horse professionals alike, who agree it is easy for your legs to become irritated with the constant rubbing on the horse.
Wear appropriate foot gear. Don't ever wear flip-flops, open sandals or any type of footwear that exposes your feet, as this can prove to be very dangerous with some of the desert wildlife that you will very likely come in contact with.
Seriously consider wearing a helmet. This may sound rather strange to you, but in the event of a fall, you will certainly appreciate having one on your head. Definitely consider putting one on your child or children.
Take plenty of water with you on Arizona riding trails.
Familiarize yourself with horses, if you are not already. Horses can be very easily startled which can cause them to react in a manner that could be dangerous to you and others, such as them running away from whatever scared them. It is important for you to have a better understanding of their personality and habits that have certain meanings.
If you decide Arizona horseback riding trails is something you enjoy, consider making it part of your fitness goals, because horseback riding is actually a very good form of exercise and burns calories! (Have to love that part, especially if you'd like to lose a couple of pounds!)
Consider exploring Arizona riding trails early in the day, if you prefer cooler temperatures. The intensity of the sun is greatest between 10 AM and 2 PM.
Research the specific AZ trail info that you will be on. Many trails are distinctly different from others such as the variations of Arizona wildlife that you will experience.
You may wish to take a camera or binoculars, or just your cell phone with you to enhance your horseback riding experience on Arizona riding trails.

Here's a Listing of Many of the Trail Riding Locations Offering Arizona Horseback Riding Tours:
Arizona Horseback Rides and Spur Cross Stables
44029 N. Spur Cross Road
Cave Creek, AZ
(480) 488-9117
(800) 758-9530
www.HorsebackArizona.com

Arizona Horseback Experience
Sonoita, AZ 
(520) 455-5696
www.HorsebackExperience.com

Cave Creek Trail Rides
37019 N. 32nd St.
Cave Creek, AZ
(623) 742-6700
www.CaveCreekTrailRides.com

Corral West Horse Adventures
14401 W. Arena Drive
Goodyear, AZ
(623) 882-3808
www.PhoenixHorseRides.com

Cowboy Way Adventures
Cottonwood Ranch
800 E. Wickenburg Way
Wickenburg, AZ
(928) 277-9398 www.CowboyWayAdventures.com

Don Donnelly's D-Spur Ranch and Riding Stables
15371 E. Ojo Road
Gold Canyon, AZ
(602) 810-7029
www.DonDonnelly.com

Fort McDowell Adventures
14803 N. Hiawatha Hood Road
Fort McDowell Reservation
(480) 816-6465 Ext. 2
www.FortMcDowellAdventures.com

Goldfield Livery
State Route 88
Apache Junction, AZ
(480) 982-0133
www.goldfieldghosttown.com/attractions/livery.html
www.OKCorrals.com (Summer Riding)

Hidden Meadow Ranch
White Mountains
Greer, AZ
(866) 333-4080
(928) 333-1000
www.HiddenMeadow.com

Koli Equestrian Center

Wild Horse Pass Blvd. and Maricopa Road
Chandler, AZ
(602) 796-3495
www.KoliEquestrian.com

MacDonald's Ranch
26540 N. Scottsdale Road
Scottsdale, AZ
(480) 585-0239
www.MacdonaldsRanch.com

OK Corral Horseback Riding
2655 E. Whitley St.
Apache Junction, AZ
(480) 982-4040
www.OKCorrals.com

Sprucedale Guest Ranch
White Mountains
(928) 333-4984



Trail horse Adventures
675 Deadhorse Ranch Road
Cottonwood, AZ
www.HorseAdventures.com
Use the search box below to quickly find what you're looking for!
Return From Arizona Horseback Riding Trails To 1-Day Fun
Return From Arizona Horseback Riding Trails To Home Page