Arizona Lakes
Arizona Lakes are probably more common than what most people believe. Our state is actually home to more than 16,000 acres containing waterways in Arizona which comes as a surprise to some who have never really explored Arizona. Come along!  Let's discover AZ lakes.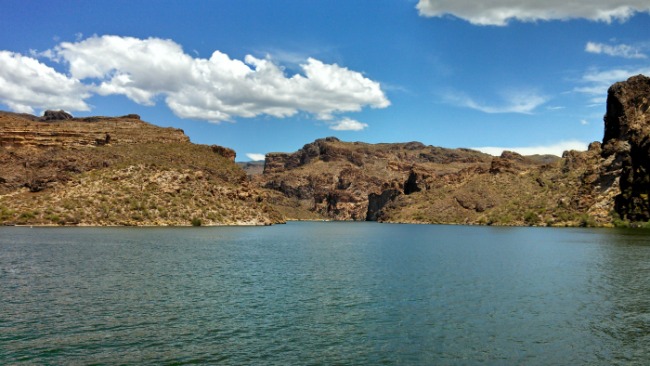 Below is a list of Arizona lakes including a downloadable map. 
We have included a list of AZ lakes for your reference.  Please note that due to the extreme dryness of the desert, not all of the AZ lakes are accessible all year round. Thus, you may wish to do a little research and confirm that the lake has adequate water before planning your trip to any of the waterways in Arizona. 
Most Popular Arizona Lakes

These Arizona Lakes contained within this list are only a handful of the many Arizona Lakes, but certainly the most popular ones. These very popular Arizona Lakes have been alphabetized for your reading convenience. We have included a couple of key details about each of the popular lakes to help determine which lake is right for your choosing.
Alamo Lake
Alamo Lake is the first of many Arizona Lakes. This is a prime lake for fishing, as this lake is regarded as one of Arizona's very best Bass fishing lakes to choose from. This lake is located approximately 75 miles northwest of the Phoenix metropolitan area. If fishing is not your forte, you can also enjoy boating, swimming or even water or jet-skiing.
Apache Lake
Apache Lake is one of Arizona Lakes that attract many people. You will find this lake about 65 miles east of the Phoenix area.
Arizona Lakes are typically known for fishing and this lake is no different. Fishing, water skiing and boating activities, are all options. Apache Lake was created by the Horse Mesa Dam. Here you will find The Apache Lake Marina and Resort, too. A boat ramp and dock are also on site at the resort.
It's located just one mile from the main highway.  This really is a great little getaway even for just a day, Apache Lake is one of the Arizona Lakes which truly is a favorite for many.
You will also find a coffee shop and other supplies and a small trailer park.
If you enjoy photography, you will have the ideal scenic location, known as The Three Bar Wildlife Area. This scenic spot is located across from the resort.
Angler enthusiasts will find Walleyes, Smallmouth Bass, Largemouth Bass, Bluegills, Channel Catfish, Red Ear Sunfish, and Crappies.
Bartlett Lake
Bartlett Lake is one of the most popular Arizona Lakes here in Arizona. This lake is often talked about in the summer months, as many Arizonians and outside visitors visit Bartlett Lake every year. I have not been to this lake yet, but certainly would like to in the very near future. I have seen nothing but beautiful pictures, too!
Another fine point about Bartlett Lake is that it is handicap accessible. Bartlett Lake extends 2,815 acres and offers slips and storage space for boats. They also have plenty of campground space, too, if you enjoy camping.
This lake is located approximately 48 miles from downtown Phoenix and is notably accessible from anywhere within the valley metro area. Many activities await you including the obvious, boating, swimming, fishing, as well as areas for hiking.
Becker Lake
Another one of Arizona Lakes is Becker Lake, distinctively known for the Rainbow Trout that you will find here! If you are a Fishermen or fisherwomen, you will love this lake. You will find Becker Lake just 227 miles northeast of Phoenix, about a four-hour drive from the capital. Wildlife is abundant at this lake as you will find bighorn sheep, deer, turkey, antelope, bear, along with other various small-game. Please note that there is no overnight camping allowed.
Big Lake
Arizona Lakes is home to Big Lake has more than enough for fishing enthusiasts. This lake is said to be extremely rich in nature which means more fish are caught. An estimated 500 acres of lake, Big Lake is one of Arizona Lakes that offers only the best in Trout. This lake is located in northeastern Arizona.
This is one of Arizona Lakes which is said to be "family friendly" as well as a lake offering numerous activities for everyone in your group. This lake offers a camping area and even a grocery store. If you don't have a boat, don't worry because you have the option to rent one. How cool is that?
Talk about an abundance of fish! "Holy Catfish," This lake has approximately 30,000 fish and even has a fish-cleaning station, which I thought was very attractive, not to mention convenient! 40 miles southeast of Pinetop, this lake is located in the White Mountains, along State Routes 260 and 273.
Big Lake now has a fully paved road which extends all the way to the lake which is a must for many. Arizona Lakes are all unique and may have varying hours. This particular lake is open from mid April to mid November.
Canyon Lake
Canyon Lake is a fine choice among the Arizona Lakes. It is located about 30 minutes east of Phoenix, and approximately 16 miles outside of Apache Junction on State Route 88.
I have personally enjoyed this lake while on the "Dolly Steamboat," a sight seeing Cruise Company. It is very beautiful with all of the rock surrounding the lake which always offers visitors panoramic views of both the mountains and wide array of wildlife. On one excursion, I was fortunate to see many hawks and a couple of eagles. You may be luckier and see other wildlife such as bighorn sheep, bobcats, deer or maybe even a mountain lion!
Canyon Lake is a product of the Salt River Reservoir. Canyon Lake is a beautiful mountainous area and offers fishing enthusiasts a wide array of fish. This lake contains Yellow bass, Largemouth bass, Rainbow Trout, Crappies, Catfish and Bluegill.
What's also nice about this lake is that it is one of the Arizona Lakes that has a designated swimming site and boating ramps to accommodate boaters.
Activities on Arizona Lakes can sometimes be quite costly. If you are cost conscious, you can take advantage of any of the three FREE recreation sites available at the lake, including the Acacia Picnic Site, the Boulder Creek Recreation Site or the Palo Verde Recreation Site.
Chevelon Canyon Lake
Chevelon Lake is one of the Arizona Lakes located about 60 miles east of Payson off State Route 260, and has a few campsites available. If you have mobility challenges, though, please be advised that there is a pretty difficult one-mile hike that's required in order to reach the Chevelon Lake.
If you are able to make the 1-mile trek, though, I am told that the hike is well worth it. I think of Chevelon Lake as a treasure as it is one of the few wilderness Arizona Lakes that exist in Arizona. This lake is located approximately 60 miles from the Payson area in the Apache- Sitgreaves National Forest.
If you are adventurous as I am, I would put this lake on your list. Many of the Arizona Lakes have higher elevations offering incredible views. Chevelon Lake is one of those lakes, having an elevation of 6400 feet.
If you choose to fish from the shore, it has 6 miles of accessible shoreline to fish from. People that have been on this lake have recommended that fishing by a float tube is probably the best idea due to the steepness of the accessible trail.
Trout is what you will find here at this lake. If you plan on fishing at Chevelon Lake, you are restricted from using live bait and I would not encourage families with smaller children due to the remoteness of the area. There are also no trash bins available on this lake.
Fool Hollow Lake
Fool Hollow Lake is well known for the Rainbow trout, Crappies, both Small and Largemouth Bass, Walleyes, Sunfish, and Catfish. Fool Hollow Lake can be found approximately 5 miles west of Show Low off State Route 260.
You will find huge, and I mean Huge pine trees! Yule Gibbons would be fond of this lake! This is an area that is significantly cooler in the hot summer months, as the elevation equals 6,300 feet, which explains why so many people love to visit this and other Arizona Lakes in the area.
This lake is open year-round from 5 AM-10 PM, this lake offers camping as well as fishing and picnicking areas.
You can cast a line out for Channel Catfish, Black Crappies, Walleyes, Rainbow Trout and Green Sunfish. The Arizona Game and Fish Department stock some of the Arizona Lakes, specifically this lake. Game and Fish stock Fool Hollow Lake from mid-May through September with Rainbow Trout.
If hiking interests you on Arizona Lakes, you will find well over 103 miles of hiking in these White Mountains Trails within 15 miles of the recreation area. This lake is located in the nearby Apache-Sitgreaves National Forest.
Just for fun, I was curious to learn how "Fool Hollow" got its name. Most of the Arizona Lakes don't have unique names like this one does. So, I did some research and learned that back in 1885, a man known as Thomas Westly Adair, moved to the area in hopes of farming. Well, apparently the residents there thought this fellow was quite foolish in thinking he would prosper at farming. They joked and claimed that "only a fool" would try to farm the area! I guess he really made a name for himself!
If you wish to contact the Fool Hollow Recreation area, their number is (928)-537-3680. They are located two miles north of US Highway 60, just off Highway 260.
Hawley Lake
You will find beautiful scenery and beautiful Arizona Lakes in the White Mountains area. This particular lake, known as Hawley Lake, is located on the White Mountain Apache Indian Reservation. This lake has an elevation of 8,200 feet and will provide you with gorgeous views.
Here you will be able to fish for Trout, such as Cutthroat, Brown and Brook Trout. And, if you would like to fish, you are required to have a permit. In fact, it is a wise idea to check ahead of your trip for any requirements or restrictions on any of the Arizona Lakes.
For your convenience, you can purchase your permit for Hawley Lake at various surrounding convenience stores. Beautiful Area!
Hawley Lake Resort offers many amenities for all of their visitors. The Hawley Lake Resort provides boat rentals, campsites, cabins, laundry facilities, along with a grocery store. Hawley Lake is located on the White Mountain Apache Indian Reservation and daily fishing permits are required. They can be obtained at most convenience stores in the area.
Horseshoe Lake
Horseshoe Lake is actually better known for its recreation opportunities among Arizona Lakes. Horseshoe Lake is man-made and is a reservoir lake, and is mostly dry during the intense hot summers here in Arizona. In fact, there are other Arizona Lakes that hold this same scenario.
The Horseshoe Lake Recreation Area is located in central Arizona in the Tonto National Forest. Some of Arizona Lakes will take a little bit of effort to access them. Horseshoe Lake is one of these lakes. This lake is accessible through a 10 mile graded dirt road and hosts loads of cactus along with other desert wildlife.
Regardless that this lake is mostly dry during the summer, there are still several months, however, throughout the year to enjoy the lake. Generally from October to May, is when outdoor enthusiasts can enjoy fun activities such as picnicking, hiking and camping.
For your reference, Horseshoe Lake has 14 camping sites available.) Boating and fishing at Horseshoe Lake are obviously dependent upon the elevations of the water.
SRP (known as Salt River Project) will typically drain the reservoir in the summer months in order to provide water for the metropolitan area. If you are fortunate enough to access the water, this lake does provide a ramp for smaller sized boats.
Please check with each of the Arizona Lakes for lake accessibility.
Lake Havasu
Lake Havasu, known for the home of The London Bridge, this lake attracts more than 2.5 million visitors every year. I commonly hear this lake mentioned as it is very popular to Arizonians. This lake is located on the western border of Arizona on Highway 95.
There is so much beautiful scenery and abundant activities on Arizona Lakes and this one, in particular, explain why this is such a popular lake. Whether you enjoy activities right on the lake or hiking, Lake Havasu has many things for everyone to enjoy. There's also the option of off-road activities for those seeking "rugged" activity.
Lake Havasu boasts that it contains more than 400 miles of coastline. With this in mind, you will certainly have "room to roam" without feeling like you are crowded! Fishing, water skiing, jet skiing, house boating and kayaking are all very popular activities on this lake. If camping interests you, you can do that too!
Visitors can also their highly rated RV resorts and/or condominiums. They pride themselves with breathless taking views and convenient locations, too.
Lake Martinez
Lake Martinez, another one of the many Arizona Lakes, was created by the Imperial Dam and is located just 45 minutes north of Yuma, Arizona, in the southwestern part of the state. The Martinez Lake Resort first opened in 1955 and started out as a fishing camp. It has certainly grown into a very popular resort. Its existence is backed by the yearly winter visitors, commonly known as the "snowbirds."
Here, you have the option of hiking, boating, water skiing, and of course, fishing for Bass. This lake is known for its excellent Bass fishing!
If you love fishing, Arizona Lakes really are the place to be!
Lake Mary (Upper)
Lake Mary is well known for a great variety of fish, such as Crappies, Yellow and Largemouth Bass, Catfish, Sunfish, Channel, Talapia, Walleye and even Yellow Perch, You will be happy to know that Lake Mary is conveniently located to Flagstaff. In fact, Lake Mary (upper) is one of the closest major lakes to Flagstaff.
If you are not in the mood for fishing, you can also do a little rafting, water or jet-skiing, or perhaps canoeing.
Lake Mary (Lower)
Lake Mary is the smaller of the twin lakes and is known for its Rainbow Trout and other fish, such as Sunfish, Channel and Catfish. A good place to catch more than a glimpse of wildlife, here you will likely see Deer, Bald Eagles, Elk, and Great Blue Herons.
Although you can bike in many of the lake areas, Lake Mary (Lower) is slated as a lake that is good for biking around. As a biker myself, I know that it is hard to find areas which cater to bicyclists. Like Lake Mary (Upper) Lake Mary (Lower) is also one of the closest major lakes near Flagstaff.
There are times when Lake Mary (Lower) doesn't exist over long periods of dryness, which is quite frequent. Sometimes it's a lake; sometimes it's not. Lower Lake Mary, the smaller of Flagstaff's twin lakes, has a tendency to disappear during the long dry spells that periodically hit this area.
You can access this lake off of Forest Highway 3 near the picnic and boat launch area. Please keep in mind that this applies to summers only, when it is open.
If you are just looking for a little rest stop or picnic with great views, this area has plentiful room and can accommodate many folks.
Lots of grills and tables are already there waiting for you to stop by! And, if you have concerns about being out in the direct sun, you can be rest assured that you will find ramadas. (Smile!)
RV lovers also love Arizona Lakes and will be pleased to know that there is parking for RV's, but Trailer RV's might be an issue on the busier days. Camping is also available from May 1st to the end of September. You'll find these campgrounds approximately 3 miles north of the lake.
Lake Mead
Lake Mead was created by the Hoover Dam and it is the largest man-made lake and reservoir in the United States. This stunning lake is located on the Arizona/Nevada border.
It offers many attractions to locals and visitors. The attractions include activities such as camping, water skiing, boating, and hiking. Visitors can also rent houseboats. Fish found in this lake include Largemouth Bass, Striped Bass, Channel, Catfish, Crappie and Bluegill.
Lake Mohave
Lake Mohave, also spelled Lake Mojave, is located about 60 miles south of the Hoover Dam. This lake is located within the Lake Mead National Recreation Area and is set inside a desert environment, right along the border between Arizona and Nevada.
As I said earlier, some of Arizona Lakes may not provide a lot of access. Lake Mohave only has one road that accesses this lake, at least from the Arizona side. (The other access road is on the Nevada side.) Willow Beach is the name of the road that you can access this lake.
Lake Mohave is a large and elongated lake, formed by the Davis Dam. If you are familiar with Arizona cities, this lake is just a few short miles north of Bullhead City. It is also near Laughlin, Nevada and one of the few Arizona Lakes that offers the best of both worlds, to some! If you like to take part in a little casino activity, you won't be too far away from the action.
It's a pretty lake where you can stop and picnic on, but this lake does not offer any camping accommodations as most of the Arizona Lakes do. Lake Mohave does have a small beach, however.
You might want to see the fish hatchery on the Arizona side for fun. I have not been on or even near this lake, but I think that when I do go, I will likely take along a gas mask. I have heard a few of the same complaints from many people about a foul smell around the lake.
Lake Pleasant
Lake Pleasant is one of Arizona Lakes that is located north of the Phoenix area. This lake is just 30 miles north of Phoenix and is considered the most popular recreation point of interest. If you like to be where the action is, and Lake Pleasant is usually quite active, then this lake is perfect for you as it is often filled at full capacity.
Anglers, boaters, water and jet-skiers alike, love this lake, especially because it is so easy to get to from the Phoenix metro area.
Lake Pleasant is one of Arizona Lakes that also offers great sailing or windsurfing! Oh, I forgot to mention hiking, too! You can also go for a hike up beautiful West Canyon. Here you will find some beautiful slot canyons. You can also explore other areas throughout Lake Powell, as hiking is permitted throughout the area.
Lake Powell
Lake Powell is a very popular getaway for Arizonians. This lake is located on the Utah border and will take you a good 4.5 hours from the Phoenix metropolitan area. Just take I-17 North to get to Lake Powell. If traveling from the Phoenix area, you can stop at Flagstaff on the way. Worth the drive! What incredible views!
Besides the gorgeous views of the rock surrounding the lake, it offers numerous opportunities for water activities. Whatever you like to do in or around the lake, Lake Powell has much to offer. While you can houseboat on many of the Arizona Lakes, Lake Powell is well known for it being the best lake for house boating.
Lake Powell is the second largest manmade lake in the U.S. and stretches 187 miles long, with a coastline of some 1,960 miles. Plenty of room for all! With the constant sunshine here in Arizona, this lake is a perfect average temperature of about 80 degrees. Nice!
If you are thinking of renting a houseboat or trip package, you can call Lake Powell toll free. Their number is 1-888-881-1120.
Channel Catfish, Small and Largemouth Bass, Striped Bass, Crappies, Bluegills, and Walleyes are many of the fish waiting for your line! You can even take a chartered boat tour or rent jet-skis for a day, on top of renting a houseboat!
Luna Lake
Luna Lake is a part of the Apache-Sitgreaves National Forest and is close to Alpine, Arizona, which is located on the eastern section of the beautiful White Mountains. You will find well-spaced and spacious campgrounds here. The pines are also plentiful and blend nicely with the area.
If you happen to be an angler, you will be pleased to know that this lake contains Cutthroat, Brook Trout and Great Rainbow Trout. Luna Lake is an excellent destination choice for any weekend fisherman or fisherwoman on Arizona Lakes.
Because Luna Lake is positioned in the higher elevations of Arizona, this lake is also known for ice fishing during winter freezes. The facilities include picnic tables, campgrounds, a boat launch and restrooms.
Lyman Lake
Lyman Lake is located 17 miles north of Springerville, Lyman Lake fisherman can catch Catfish, Crappie, Largemouth Bass, Walleye, and Bluegill among others.
There are no boating restrictions, so if you are like many people, including myself, and are looking for peace and quiet, be advised that all water sports are "fair game.," This means that you are quite likely to see water and jet-skiers on the lake.
I was also pleased to discover that electrical hook-ups exist in some locations around the lake for visitor's convenience.
Lynx Lake
Lynx Lake is a 55 acre lake and home to a variety of fish such as the Largemouth Bass, Rainbow Trout, Sunfish, Crappie, and Channel Catfish. Lynx Lake is located in central Arizona, just a few miles east of Prescott. This is a very popular lake to many.
This lake provides a variety of recreational activities. The lakes guests can enjoy not only the obvious of fishing, boating and hiking, but also horseback riding and mountain biking, too.
A couple of other points I would like to make mention of are, one, this lake offers easy access for those who have mobility challenges, and two, only electric motors are permitted on Lynx Lake.
Mormon Lake
Mormon Lake is located about 30 miles southeast of Flagstaff Arizona. Mormon Lake is Arizona's largest natural lake and is definitely known for the "must see" wildlife that characterizes this lake. Don't be surprised if you see herds of elk roaming the forests! Bald Eagles and ospreys both make this lake their home, along with other great wildlife such as the Pronghorn Antelope.
Mormon Lake has been known to become dry when there just isn't enough rain to support it, but don't let that discourage you! This lake still remains an excellent place to launch a boat, hike, bike, or just to take advantage of all of the unique wildlife and scenery. You will find Sunfish, Catfish and Channel here at Mormon Lake.
Recreational activities are not hard to come by on Arizona Lakes. Here on this lake, you can choose from several hiking trails, ranging from a short and easy hike totaling a half mile to a 5 mile hike. Boating, camping, fishing, and wildlife watching will certainly keep you busy while you enjoy the wilderness up here.
In the winter, you can also access the cross-country skiing trails, providing that there is adequate snow. There have been times, however, when there is just not enough snow to ski. It would be in your best interest to confirm that there is enough snow before making plans.
If you wish to contact the folks at this lake, the Mormon Lake Ranger District office is conveniently located just 2 miles southeast of I-17. I have provided the address for you, as well. They are located on Lake Mary Road, at 4373 S. Lake Mary Road in Flagstaff, AZ. 86001
The phone number to reach the Mormon Lake Ranger District office is (928) 774-1147. The office is open Monday through Friday, 7:30 AM- 4:30 PM.
Patagonia Lake
Patagonia Lake is located in Southern Arizona just 12 miles north of Nogales Mexico. Although known for Rainbow, Largemouth Bass, Crappie, Sunfish, Channel and Flathead Catfish, the lake can be nearly empty during low water/drought periods.
Reservation Lake
Reservation Lake With a managed season from April to November, Reservation Lake is an excellent Brown Trout fishing lake high in Arizona's majestic White mountains. Reservation Lake is located 19 miles south of Arizona 260 using Arizona 273.
Roosevelt Lake
Roosevelt Lake As the largest of the six Salt River Project lakes, Roosevelt Lake is a good source for Large and Smallmouth Bass, Bluegill, Channel, Catfish and Crappie. Roosevelt Lake is located 80 miles east of Phoenix and heavily visited during hot summer holidays. Facilities include fish cleaning station, picnic areas, restrooms, boating ramp, camping, and stocked fish.
Saguaro Lake
Saguaro Lake is approximately 40 miles east of Phoenix and is one of the six Salt River Project lakes that were created by Mountain Dam. This particular lake is well stocked by the Arizona Game and Fish Department Plenty of fish to go around for all, here you can expect to find a pretty decent catch of , Largemouth, Walleye, Rainbow, Yellow Bass, Crappie, Brown Trout, and Catfish.
San Carlos Lake
San Carlos Lake is just 25 miles east of Globe Arizona. This lake was created by the Coolidge Dam and provides fishermen with Largemouth bass, Catfish, Crappies and Bluegill. San Carlos Lake is the second largest in the state.
It is very important that you note that this lake is subject to tribal regulations. Also, a permit is required for all fishing, hiking, camping as well as any off-highway driving that you may plan on doing. You can also have a picnic here and there is also a boat ramp that exists.
I think that it is important for you to know that if you are looking for beautiful views, this area may not be exactly what you are looking for.
The area is certainly an economically depressed area and the area is definitely quite flat in nature. Thus, this is certainly not one of the finer Arizona Lakes that I have come across. Nevertheless, I always like to explore areas, at least just once. You may have a different opinion.
It's kind of like referring a restaurant. I was once give terrible reviews on a local restaurant and avoided it for a long time. I finally went there to eat and was convinced otherwise that this was the best authentic Mexican restaurant in the area!
Another side note is that there doesn't seem to be a lot of "upkeep" to the area, meaning, there are areas where litter is scattered throughout the area, which certainly takes away from the few rays of beauty that lie within the area.
I have traveled through this area and can attest to this. I think it's sad that it is this way. It could be so much more with a little care, but unfortunately, this is a common trait often seen with Indian Reservations.
Show Low Lake
Show Low Lake is located one mile off of State Route 260 on Show Low Road. I love this area. It really is a beautiful area. Full of scenery and pines! If you are an angler, you are going to want to shoot for the early part of spring as this is the best time to catch your fish, such as Bass, Blue Gill, Walleye, Trout and Catfish.
No boat? No problem! You can fish right from the shore and there is a bait shop that supplies all of your fishing needs. If you prefer, you can also rent a boat here. Pretty convenient setup.
If you would like to do a little camping while visiting, there are campgrounds surrounding the area. Also keep in mind that Show Lake has a limit to the horsepower on your boat. The limit for any boat is a maximum, 8 hp. You will also enjoy this area as it has plenty of tables, fireplaces, drinking water and other outdoor amenities.
For camping information, you can call (928) 537-2426. Camping is seasonal, so you are advised to call ahead.
Sunrise Lake
Sunrise Lake is actually considered by most as one of the best Trout Lakes in Northeastern Arizona. So, if you love to Trout fish, then this might be the perfect lake for you. The lake is situated approximately 30 miles east of Pinetop, Arizona. This lake is a pretty good sized lake measuring just over 800 acres.
The types of fish that you will find here are Brook, Rainbow and Apache Trout as well as some Grayling.
This lake is home to the White Mountain Apache Reservation and proudly brags about the fishing that it offers its angler fans. Here, you can fly fish for large Trout or launch a boat, if you prefer.
Bigger is better? I will let you decide that. But, if you like things big, then Sunrise Lake is home to the "big guys!' Fish here are quite often significantly bigger than most of the other Arizona Lakes. Many people claim that Sunrise Lake is the "real catch" of all of the lakes and the only lake that they will fish on because of the size of the fish that are readily available.
Amenities include boat rentals, campgrounds, stores, and even gas stations.
Tonto Lake
Tonto Lake is roughly 30 plus miles southeast of Fort Apache Arizona. Fishermen and fisherwomen will not be disappointed with the Rainbow and Apache Trout that are found within the lake. Not a real big lake, holding just 82 acres.
Here you will find an area set aside for camping, which includes picnic tables. Make sure that you check with the White Mountain Game and Fish Department, as there are some special regulations that need to be followed.
Verde River Reservoir Lake
Verde River Reservoir Lake is conveniently located approximately 30 miles northeast of Phoenix. This lake is a pretty popular choice, especially to the locals on a holiday. You can enjoy swimming, picnicking, boating, water skiing. Along with these optional activities, you will be happy to know that there is ample space to pitch a tent.
Your chances are better at catching Catfish, Bass, Small and Largemouth Bass, Crappies and Bluegills, when there are less people on the lake, as with any other of the Arizona Lakes.
Woods Canyon Lake
Woods Canyon Lake is a very big attraction to many with its spectacular scenic lake views. This lake is located at the top of the Mogollon Rim and frequented by many during the summer months, especially for the locals who try to get away from the 110 degree heat!
Rainbow, Brown and Book Trout, are the fish that you will find in this lake. You are able to fish year-round here, but keep in mind that this lake is located in the higher elevations of Arizona, which means this area has been known to get quite a bit of snow. Therefore, the lake is closed following heavy storms.
If you need camping information, you can call 1-877-444-6777. Reservations are required.
Due to the extreme danger of Arizona fires, there are obviously going to be fire restrictions. On the note of restrictions, there are also boat restrictions, so you may wish to call ahead so as not to ruin your planned trip! (Electric boat motors are required.)
Lots of recreational choices such as camping, fishing and hiking. You can also plan on mountain biking, too, if that is of interest to you.
You should also take into consideration that this area is fairly remote, so you should come prepared with your essentials. The closest community, known as Payson, is not terribly far away, but it is still about 35 miles away.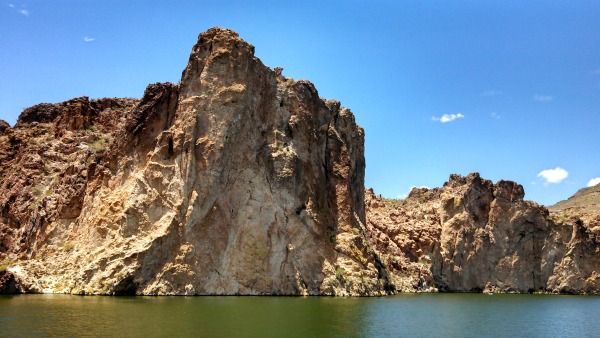 Click here for a downloadable AZ lakes map.  (It may take a couple of minutes to download but it is well worth waiting for in my opinion.)

Use the search box below to quickly find what you're looking for!
Return From Arizona Lakes To Home Page