Unforgettable Arizona Jeep Tours!
Summed up, Arizona Jeep Tours are a blast! If you want a close up look at the Sonoran Desert in Arizona, you owe it to yourself to try this 1-Day activity at least once. I did and I absolutely loved it. Prior to my first jeep tour, I rode in a jeep, but I never experienced any this kind of tours before.
I knew that it was going to be a lot of fun, but I never knew I was going to enjoy it as much as I did.....it really was a blast.
The experience really gave me a close up look at the awesome beauty of the desert. There were so many beautiful desert plants to enjoy, like a blooming Strawberry Hedgehog that was in full bloom!
Broken Arrow Arizona Jeep Tours

There are many Arizona Jeep Tours available throughout the state, but the name of the tour that I went on, was the Broken Arrow Tour , located in Sedona, which was a part of the Pink Jeep Tours company. All of their Jeeps, are, you guessed it........PINK in color!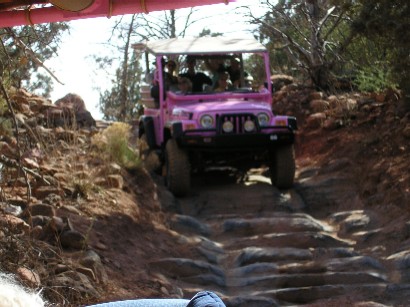 Talk about off-road fun! As soon as we drove off of the pavement and into the desert southwest, my eyes became big with excitement as I realized I was about to enjoy a memorable adventure. I knew that we were all going to be treated to some spectacular views once our escort laid the windshield flat onto the hood of the Jeep!
I was pretty lucky as I was able to sit in the front next to our driver, which allowed me to alert the others in the back what we were about to experience next!
I was now closer to the red rocks as we approached the nearby canyon walls. There were so many exciting moments that it is hard for me to say what the best part about the tour was for me, personally. I do remember my mouth dropping open as we climbed a huge rock and hoping that we would not somehow fall backwards! Going back down the rocks was just as fun. I took the picture below of another Jeep that was out touring at the same time.

Discover the Desert On AZ Jeep Tour!
Pink Jeep  tours in AZ consist of guides who will not only escort you through the desert, but they will also explain to you in detail, the geological processes involved for the incredible scenery that you are seeing. They will also explain Native American and specific history to the area you are touring.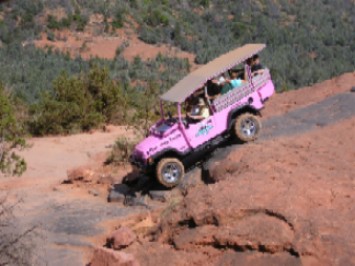 Animals, plants, everything you probably would like to know about will be a part of your Jeep Tour, at least if you go to Sedona or the Grand Canyon, anyway.
These tours are more than just about the panoramic views that you will experience. You will certainly get your money's worth when four-wheeling, if that is what you set out to do!


Jeep Tours Sedona Arizona

Here's there is another great Arizona Jeep Tour option for you.
Hang on tight for a fun-filled four-wheeling jeep adventure over the red rocks of Broken Arrow. Bump and bounce over rough terrain and through the unique red rock formations Sedona is renowned for on the most popular four-wheel drive tour in the Southwest. You'll be awestruck by the natural splendor and thrilled as your guide expertly navigates you down "The Road of No Return". Broken Arrow exceeds all expectations every time. Simply put, this is one of the best  jeep tours in the Southwest!

What's nice about going on Arizona Jeep Tours, is that you have the option of a shorter tour, such as the one that I took, which took about an hour and a half to two hours.
I know that there are tours in Sedona and at the Grand Canyon that last as long as four to ten hours.
If you want an all-day tour, I know that they are available if you decide to travel to the Grand Canyon. Those tours take you on an expedition experience lasting between 10-11 hours.

Tips To Remember
ALWAYS wear sunscreen during the tours. Even if the vehicle you are riding in has a cover, you can still get sunburned. It would be advisable to take along some extra sunscreen with you to reapply in a couple hours if you will be out in the sun longer than that time frame.
Bring plenty of water if it is not offered on your tour. Ask ahead of time to make sure that water is provided.
Wear a hat to help protect you from the intense sun.
Use the search box below to quickly find what you're looking for!
Return From Arizona Jeep Tours To 1-Day Activities
Return From Arizona Jeep Tours To Home Page