Explore Magical Sedona
USA Weekend named Sedona the number one most beautiful place in America to visit. If you have already discovered this world famous site for yourself, you don't need to know that to believe it. I took this picture on one of my own personal visits.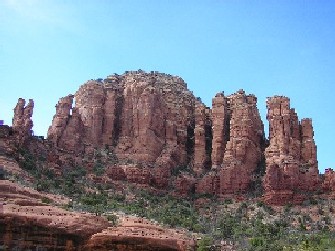 This magical visitor site attracts some 3 million visitors each and every year. If you were to ask people the reason why they chose to visit it, they would probably tell you it's because of the amazing and beautiful red rock sculptures that are carved into the area.
This area is known for its famous red-rock-formations and are not only beautiful in nature, but they offer visitors an unforgettable experience.
Rock formations are comprised of limestone, basalt, sandstone, and ferrous oxide mixed with the sandstone. This combination gives off the distinctive striking red color. The iron ore, silicon dioxide or sandstone, is accountable for the magnetic energy that is believed to revitalize people.
For centuries this area has been considered sacred by the Native Americans and for good reason.
It's an area where people visit because of the breathtaking views, but also for the inspirational revitalization. And it's not just because of the beautiful scenery that attracts so many visitors.
One Day Activities

There is an endless list of 1-Day activities for you to partake in that you really should plan on staying for at least a couple of days, if you have the opportunity. Whenever I travel to red rock country, I try to make it longer than a 1-Day activity just because there are so many things to do there.  On my last visit, I took a Jeep tour which was a LOT OF FUN! Just the sightseeing alone will keep you busy. But if you are more of the adventurous type, be rest assured that you will not get bored during your stay in Sedona. This attraction is well worth it and I highly suggest it.

Jeep tours, airplane tours , hot-air balloon rides, golf, Grand- Canyon trips, explore Monument Valley and Navajo Indian Reservation,  helicopter tours, hiking, and horseback riding are just a sample of some of the 1-Day activities for you to experience.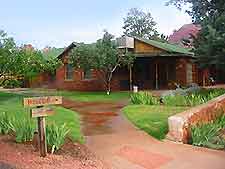 There's also the Heritage Museum, located north of uptown that will provide you with picturesque views of the red rock, as well. The museum is open daily from 11 AM - 3 PM.
If you would rather just sight-see around your hotel where you are staying, you can also do that too and will not be disappointed. I can't say that there is a hotel that doesn't have a good view of the red rock and there are plenty of walking areas for you to explore.
You will, however, find that there are some hotels that offer a better view of the red rock once inside your hotel. If the view is important for you to have inside your room, make sure to ask the reservationist about the view inside the rooms when making your room reservations. Long before Sedona became known as the number one place in America to visit, it was actually known for its metaphysical, inspirational, sacred and spiritual experiences that many have come to know through their visits.
The Spirit of Sedona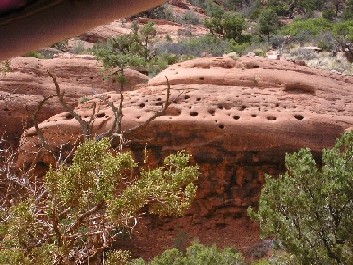 Native Americans have long since believed in the magnetic powers surrounding this area.
If you believe in the spirit of Sedona, there are special guides who will take you through the physical landscape and into the wilderness areas. Here, you can experience these known spirits and actually communicate with them.
The Native Americans share their wisdom and it is their belief and desire to show others how to live in harmony with the earth.
If you are looking for a vortex, which is basically a giant magnet of energy that is either positive or negatively charged, you will certainly find them here.
If you are not familiar with vortexes, they can be Positive charged vortexes, known to have feminine attributes, such as tranquility, calming, yin, or nurturing effects. 
Negative vortexes are known for their masculine, active, energizing or yang effects.
Some of the deepest spiritual and vortex experiences can be discovered in Sedona within a ten-mile radius. Here you will find 15 vortex sites for you to choose from.
Many visitors travel to this area just for the vortex experience. Many people who visit these vortexes, swear by the effects that these magnetic sources have made on their own lives, which is what makes it so very popular and powerful.
I personally plan on experiencing these vortexes on my next trip, without question.
Depending on whether or not you feel the need for a calming or nurturing effect or a sense of empowerment, you have the option of choosing which vortex you would like to explore.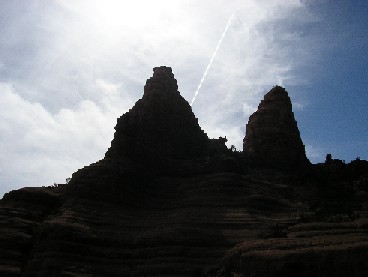 There are easily hundreds of things you can do during your visit to this natural made wonder in Arizona.
Whether you wish to spend just a day or two, you will likely want to go back and explore this Arizona hotspot real soon. People have fallen in love here and have even come back to have their wedding in this special city known to Arizonans and others in various parts of the world.
---
Option A From Phoenix
Take I-17 North towards Flagstaff (98 miles)
Exit at Highway 179 (Exit # 298)
Turn Left (West) onto Highway 179
Travel on Highway 179 to Sedona (14 miles)
(Travel time approximately 2 hours or 120 miles)
---
Option B From Phoenix
Take I-17 North Towards Flagstaff (89 miles)
Exit at AZ-260. (Exit 289)
Travel west towards Highway 89A (16 miles)
Turn Right on Highway 179 to Sedona (14 miles)
Return From Sedona To 1-Day Activities
Return From Sedona To Home Page