Plan A Memorable Tucson Arizona Vacation

From sunup to sundown, your next Tucson Arizona vacation equates to an endless list of points of interest.  What is there to do you ask?  Well, let us help you by suggesting the following things to do in Tucson to get you started!  We will be providing you with such things as sightseeing, dining, must-see attractions, shopping and also some helpful numbers to help you plan the ideal Tucson Arizona vacation!

Old Tucson Studios Is A Great Way To Spend The Day

| | |
| --- | --- |
| Old Tucson Studios Streets | High Chaparral Ranch |
Consider this attraction with your Tucson Arizona vacation that literally visitors from around the globe come to see!  Why?  Well, one of the reasons visitors love it is because of the history they just cannot seem to get enough… take a step back into time when life was, well, simple.  See what it must have been like to be a frontier in a town that is known for its location where some pretty famous movies were made.  Stop in and see where these movies were made while enjoying the many shops that are located within.
Stars such as John Wayne, Young Bill Young, Angie Dickinson, Robert Mitchum and even a few television series like, High Chaparral and Little House on the Prairie, are a part of its history.  Built in 1939 by Columbia Pictures, this is a historical Old West attraction that is known as a favorite for many.  Witness a piece of history that comes equipped with mock gunfights and plenty of other settings that will make you feel like you have gone back to the era that so many of us cherish!  This particular Tucson Arizona vacation idea is one of those  attractions that's just "perfect" for both the little and BIG kids alike! Contact them today at (520) 883-0100  www.OldTucson.com 
Must See Arizonan Sonoran Desert Museum

| | |
| --- | --- |
| Arizona Desert Museum | Arizona Desert Museum Sarroundings |
This world-renowned zoo with its botanical garden and ALL of the history and wildlife in the form of mountain lions, Gila monsters, and a long list of animals, will interest both youngsters and adults.  There are activities for the kids and plenty of attractions that both the youngsters and adults will thoroughly enjoy that may also include the Grand Canyon.  By car, in good traffic, it will take you about 11 hours to get to the Canyon.  If you have the means to do so, consider taking the short plane ride from Tucson to the Grand Canyon.
Consisting of 21 acres and two miles of walking paths, 16 individual gardens to explore the 1,200 native plant species and 56,000 individual plants, one thing is for sure… you will not get bored when you visit the Arizona Sonoran Desert Museum!  There's just so much to see that you just may consider coming back a second day.  With more than 300 animal species, make sure you have plenty of space on your camera to capture the precious memories to take home.  The animal collection currently includes 230 native mammals, amphibians, reptiles, insects, and plenty of birds.  This also includes a multi-species hummingbird aviary. (520) 883-2702  www.desertmuseum.org
Kids and Adults Love the Pima Air and Space Museum

| | |
| --- | --- |
| Pima Air & Space Museum | Pima Air & Space Museum Exhibit |
The whole family will really enjoy touring this museum…. Like no other, you and your family can visit more than 300 aircraft that represents America's history.  Come enjoy one of the world's largest aerospace museums displaying a wide variety of commercial, private and civil along with military aircraft.  They are open daily from 9 am to 5 pm.  www.pimaair.org
Immerse Yourself In Culture With The Tohono Chul Park

| | |
| --- | --- |
| Tohono Chul Park | Tohono Chul Park & Flowers |
Tohono Chul Park is another attraction, offering a true experience that will connect you with all of the wonders that include nature, art and culture that the Sonoran Desert has to give.  Consider taking advantage of one of several Tohono Chul's trips offered throughout the year.  These are some of the most up close nature experiences you can find.  Known as their Travel "Ed-ventures," you will sure come away with an education about the desert southwest to last a lifetime if you make this activity a part of your next Tucson Arizona vacation.  Call them or log on for tour information.  (520) 742-6455 www.tohonochulpark.org
Desert Diamond Casino and Entertainment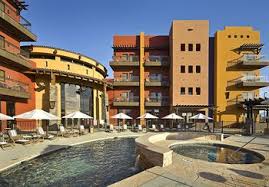 Desert Diamond Casino in Arizona
Whether you would like to try your luck at slots or take in one of their shows, enjoy the nightlife, have a bite to eat at one of the onsite restaurants or all of the above, this is another option for a little excitement during your stay.
One-Of-A-Kind Arizona State Museum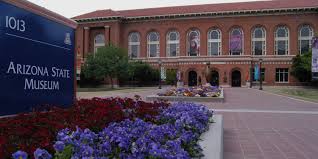 Arizona State Museum
Put this attraction on your list!  The University of Arizona is home to the Arizona State Museum known to be the oldest and largest anthropology museum anywhere in the Southwest.  Established back in 1893, this is one interesting place that the entire family can certainly enjoy!  Relish the endless list of the State's museum collections that has everything to with the study of southwestern culture.
The museum has more than 4,000 comparative vertebrate skeletons, early Native American collections that include some of the first and most rare examples found anywhere, such as one of the largest Navajo rugs that was ever worn.  Discover one-of-a-kind exhibits that can only be seen at a museum such as this one that specializes in so many collections that are focused primarily on the American Southwest (including northern Mexico) peoples.
If you want to take your adventure to a whole new level, seriously consider taking a tour with one of their edu-training adventures they offer that comes equipped with an expert whose personal knowledge of archaeology and anthropology is second to none. Call (520) 626-8381 for more information on these tours or log onto their site for information on all of the museum activities. www.statemuseum.arizona.edu
Other Attractions For A Tucson Arizona Vacation?

Please feel free to contact us if you have a must-see adventure that you would like to see added!  We would love to hear from you and welcome your feedback.
Return From Tucson Arizona Vacation to Home Page