Siberian Husky Rescue

I experienced a Siberian Husky Rescue!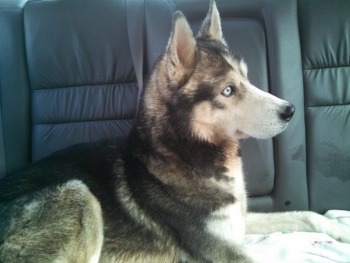 SKY
It is a day in which I will never forget.  We were driving to a nearby town on a very well traveled road known as Apache Trail, in Apache Junction.   Suddenly, my friend said to me, "Hey Monty, I think there is a dog running in front of us."  The dog was a good two hundred yards away and I did not have my glasses on so I could not see it as clearly as my friend… Now mind you, what we believed was a dog running in the exact same lane as us AND it was running in a straight line heading in the same direction. 
As we got closer, we realized that indeed, it was a dog… and it appeared to be a Siberian husky.  I immediately put my flashers on in hopes of preventing other cars from hitting it.  I don't know how we were able to pull it off, but we got the attention of this beautiful dog while we continued driving.  I whistled and the dog moved off of the road.  We then pulled off to the side of the road and I whistled again as my friend opened up the rear doors in hopes that the dog would get in.  It was truly amazing and surprising as the dog ran over to our car and climbed into the back seat!  We noticed that two of his poor little paws were bloodied, most likely due to him running on the hard pavement.  We then looked at each other and said, "Well, what do we do now?"  I immediately thought about a local vet because they have taken in other stray animals until they can find the owner or someone who will adopt them.
What do we do now?

Fortunately, the vet, known as Companion Pet Clinic in Gold Canyon, agreed to take the Husky in as it was discovered that he did not have a chip to help identify his owner.  My friend immediately contacted our good friend and nearby neighbor, Marta St-James, who has been known to help find the owner of a lost pet.   Marta immediately started contacting people online as well as put the picture of the dog on her website goldcanyondog.org   Since the dog did not have a collar with any identification, we decided to call him "Sky," because he had such beautiful sky blue eyes as you know these dogs are famous for.
Companion Pet Clinic in Gold Canyon, also contacted a Siberian Husky rescue organization who helps find the rightful owners as well as find adoptive families for lost Huskies.  Several days passed and my friend and I were wondering how Sky was doing.  We decided to pay a visit to the clinic to find out what the status was.  As soon as we walked in, we saw a woman standing there with a Siberian husky.  The woman was talking to one of the clinic employees about what she was going to name him as well as the approximate age of the Husky!  I looked at my friend and thought this HAD to be Sky! 
Love is in the air... or Sky?

Moments later we then learned that the woman had driven all the way from Tucson to adopt this beautiful dog!  I instantly felt so relieved to know that someone was going to adopt him.  We then introduced ourselves as the ones who had discovered him running loose.  We were able to spend some time at the clinic explaining our story to this woman, whose name is Yvonne.  What are the chances that we just happened to rescue a beautiful Siberian husky, let alone stop into the clinic at the exact same time he was being picked up by his new adoptive mother? 
SKY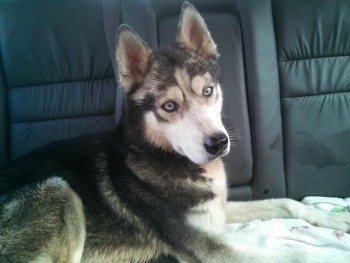 We have been staying in touch with Sky's adoptive parents and he is adjusting well to his new home..  He has since been neutered and also saw an ophthalmologist for an eye condition.  It has been discovered that he has UVitis, an autoimmune inflammation of the inner eye causing loss of pigmentation around the face and eventual blindness.  I am certainly hoping that through the phenomenal care he is receiving, that his eye issue will never lead to blindness. 
Siberian Husky Rescue

I am so thankful that he is getting the much needed care for his medical needs.  Yvonne and her husband have opened up their heart and home to take care of this little guy. 
I could not feel more thankful to have been able to rescue Sky and help find him a new home.  I love animals and I would do anything to help them.  I want to thank our friend Marta St.-James for all of her time consuming efforts along with others mentioned herein.  Marta also contacted ASHRA - Arizona Siberian Husky Rescue & Adoption as well as the Arizona Beagle Rescue, asking for assistance.  Marta would also like to thank AZBR volunteers Patty Bilyo and Cheryl for their efforts.  Sky's adoptive mother, Yvonne, heard about Sky needing a home through Siberian Husky Rescue in Tucson so I cannot thank that organization enough.  Because of them, Sky has been placed with two (what I call "angels") wonderful people. 
SKY's PAW Alert was posted on many websites including Facebook, please visit this page.
If you would like to donate to a good cause and receive more information about Husky Rescue,  please do so by logging onto the Siberian Husky Rescue in Tucson.  
Return From Siberian Husky Rescue to Home Page