Arizona Wonders
With so many things to do and see, it's no wonder why there are so many Arizona Wonders (no pun intended!) and why so many people flock to the state of Arizona. The reason why Arizona is a very popular choice to live, or at least vacation in, is quite simple to understand.
The weather alone is a key attractant as virtually every day, any desired activity is possible. The Arizona winters draw mostly Canadians, Midwesterners, as well as other people from other states and countries.
I heard someone say once that there are three different types of seasons in Arizona: "cool, perfect, and really, really hot," which likely explains why many of the winter visitors scurry back home to avoid the intense summer heat of the desert.
Ah... the Weather...

Another one of Arizona Wonders is the rain, or the lack thereof! Rain is something that is not often talked about and when it does rain in Arizona, it is often the top story of the local news. It's quite comical, actually! I mean, growing up in Wisconsin, and living in Minnesota for many years, inclement weather was something that regularly happened. I guess rain in Arizona is like tornadoes to the Midwest, in terms of a "newsmaker," anyway.
Arizona Wonders also include the Monsoons, which is typically when the heaviest rain falls in Arizona. The start of the Monsoon begins when there are three consecutive days when the average dew point is 55 degrees or higher and generally happens around the 7th of July. The Monsoon might seem "lengthy" to some as it doesn't usually end until around September 13th.
Due to the fact that rain is not a common occurrence in the state, the Monsoon rains can actually be a very dangerous event and flooding is something that is to be expected. The rains can occur very quickly and with the desert floor being as dry as they almost always are, this can create a rash of flash flooding in both the streets and washes. Unfortunately, many people have succumbed to death after being caught in the flash flooding. Every year it seems that another person has been swept away by the flooding, most of the time, not realizing the seriousness of these Monsoon rains.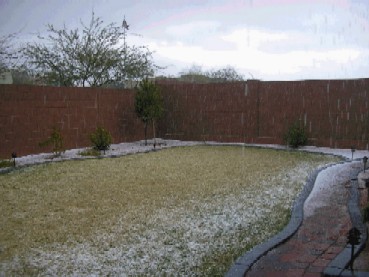 This is a Winter photo of our backyard after a storm came through. It was a day that I remember well because the rain that fell, actually started to look like snow!
It was quite cold that day and when the rain reached the ground, the rain started to freeze. If you look at the ground, you will see what I mean. I took a picture of it because it is so unusual to see this in Arizona.

Use the search box below to quickly find what you're looking for!
Return From Arizona Wonders To Home Page